Our Upcoming
Courses and Certifications

Ultimate Mind-Set and Coaching Intensive
Your success doesn't happen to you by chance or luck; it happens from you through your thinking, attitude, focus, relationships, and ability to innovate solutions.
In a world experiencing rapid change, individuals who are masterful in their emotional intelligence can think strategically and practice mental and emotional management skills; they succeed. The secret to your long-sought-after success is within your core relationship with yourself. This evolves through an unwavering commitment to break through old self-sabotaging patterns and become your powerful, aligned self.
If you desire to create permanent breakthroughs this year, you finally have found the right curriculum to move from stuck to Unstoppable.
By the end of the Ultimate MINDSET and Coaching Intensive, you will know how to remove the unconscious patterns of your past and put in place your purpose, your mission, and the realization of your dreams back in the driver's seat of your life. You will know the tools to create and sustain your motivation, innovate solutions, build thriving relationships, and create a viable future with purpose.


Trauma Memory Solution Certification
Emotionally unresolved traumatic memories devastate an individual over time.  It is medically proven to be a contributing cause of cancers, heart diseases, diabetes, lung disease, and every major illness plaguing our society.  Suicide rates have exploded nationwide because people can't find relief from the haunting of their past and the compounded negative memories that constitute their history.  Some people live in acute trauma, while others find it impossible to trust and be in a successful, long-term, connected relationship.  They seek relief from the damaging effects of constant stress and long to lead an everyday life, but often can't find a long-term solution.
Traditional therapy and counseling methods may not be enough to help them overcome their trauma, leaving them feeling stuck and hopeless.
The Traumatic Memory Solution Certification process is a new method of permanently resolving traumatic memories exclusive to our training.  This is the only place in the world to become certified in this life-changing process.  Whether you desire to take the certification to work with clients in a way that changes their life in one session, or you desire to apply the information for your self-healing and to work with your family members, this certification will open your mind and heart to brand new possibilities to evolve your life and careers.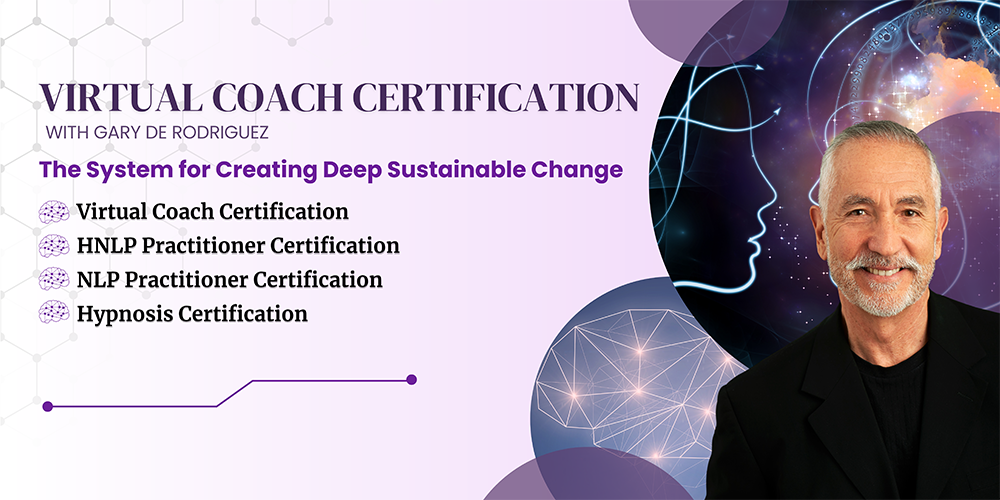 Virtual Coach Certification
The certification will increase your credibility and give you a competitive edge in the coaching industry because only a few coaches are trained in these breakthrough techniques.  If you're already a coach, this certification course is for you. If you want to enter a new career path and be effective right out of your initial training, you can add vital skills to create client breakthroughs that will keep word-of-mouth referrals coming in.
Many coaches and people who want to help others desire to be as effective as possible, but they often work at the symptom level rather than the root cause.  I've developed a predictable system utilizing new NLP, Archetypical Hypnosis, and HNLP processes over my 35-year career.
I have tested this system in the trenches with approximately 30,000 clients and consistently made profound changes.  This system works.  After a three-year break from training Certifications, I've chosen to begin again to help as many people as possible to be extraordinarily powerful and successful in their coaching practices.
You may be a new or established coach, a seasoned or new psychotherapist desiring to become more effective in your practice, or a concerned parent who knows you need to help your teenage children.
I will teach you the system I created to train you to work on the root cause.    The objective is to lift people from obstacles and help change their lives forever.
You will learn to work as a Coach with powerful techniques from NLP, HNLP, and Archetypical Hypnosis, to help yourself and your clients create human excellence.  You'll learn how to shift limiting beliefs to empowered beliefs, resolve internal conflicts, change clients in a conversation, align values, and program the subconscious mind for future goals and new success habits of thinking, believing, and behavior. The list of benefits goes on and on with the skills you will master.
You will earn four certifications after successful completion of this certification.
Virtual Coach Certification
HNLP Practitioner Certification
NLP Practitioner Certification
Archetypical Hypnosis Certification